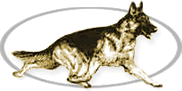 CLUB NEWS

HOME

ACQUIRING A GSD

ARTICLES

CALENDAR

CLUB NEWS

CLUB SOCIALIZATION


CONTACT US

DRILL TEAM

MEMBERSHIP APPLICATION

MEMBER LOG IN

PICTURES

TRAINING























The club is holding an AKC sanctioned GSD match and an AKC sanctioned all-breed rally and obedience match
on January 3, 2016. Go to the calendar page for more information and a copy of the flyer.
We were honored at our General Meeting (November 2015)to have visitors from Florida,
Dave and Janet Desmond from Jupiter, Florida. They have been involved
with German Shepherds for over 30 years, breeding, showing in breed and
obedience. They are members of a very active club, Treasure City German
Shepherd Dog Club, Inc (tcgsdc.org). It was interesting to hear about
their club and events and both Dave and Jennifer had some interesting
ideas on club events and involving other club members. A great exchange
of ideas and of course photos of dogs. They will try to attend our
Social Night on Tuesday with some of their dogs they brought to
Rochester on their Thanksgiving family holiday. Thank you Dave and
Janet for coming to our meeting.

Annual Election Results:
Election of Officers: Judy read the following results of voting for club officers and board members:
President: MaryAnn Hartley
Vice President: Sharon Wunder
Treasurer: MaryLou Weisenreder
Recording Secretary: Judy Zabelny
Corresponding Secretary: Cheryl Coleman
Board Member: Robin St. George (2 year term, through September 2017), received 15 votes
Board Member: Bonnie Ferrari (2 year term, through September 2017), received 13 votes
Board Member: AnnMarie Beachel received 5 votes for a Board position.
Therefore, the two Board members elected for a 2-year term were Robin St. George and Bonnie Ferrari.
Euchre Tournament November 8,2015 12:30 PM
Anyone who would like the opportunity to see the inside of one of Rochester's historic mansions
on Mt. Hope Boulevard, near Mt. Hope Cemetery should seriously consider this event.
The owner is a professional chef and there will be various unique appetizers to choose from.
This is a single player tournament, so even if you don't know how to play euchre, this is a good time to learn
and have a lot of fun doing it with no pressure on "messing up" a partner!