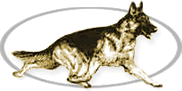 MEMBERSHIP APPLICATION

HOME

ACQUIRING A GSD

ARTICLES

CALENDAR

CLUB NEWS

CLUB SOCIALIZATION


CONTACT US

DRILL TEAM

MEMBERSHIP APPLICATION

MEMBER LOG IN

PICTURES

TRAINING























To apply for membership, Include a check for the current year's dues. Single member dues are $15.00. Family (2 people) dues are $20.00. If the application is denied, the dues money will be refunded.
Once an application is received, there is a 3 month waiting period before applications are reviewed and voted on. A condition of membership is to have an "active" status in the club, which means attending club functions, meetings and participating, as possible, by helping with different functions as may be required.
Doing these during the 3 month waiting period is recommended.
MEMBERSHIP APPLICATION Be advised, you may have issues with this link if you are
using Internet Explorer as your access to the internet. You should do a "save as" and put the
document on your desktop or in a folder first, then open it from there. Trying to open it directly from your download may show you a document that is unreadable. Google Chrome users will not have the same issue. If downloading is a problem, email Dawn and she will email you a copy of the document.
EMAIL FOR INFORMATION: dawn_brogan@hotmail.com